Description
Transparent sheet for roof
Transparent sheet for roof has the characteristics of lightweight, high strength, and good thermal insulation properties.  Plastic Building Roofing Sheet Twinwall Polycarbonate PC Hollow Sheet has outstanding light transmittance, easy to install and process, it is widely used in ordinary architectural lighting needs, such as building roofs, greenhouses, parking sheds, and so on. The advanced UV co-extrusion technology ensures the twin-wall polycarbonate sheets' strong UV resistance, which can meet the 10 years quality assurance under outdoor conditions.
Thicknss(mm)
Structure
Weight(g/sqm)
Min.Bend Radii(mm)
standard size
 color
4
2-layer
850
700
2100mm*6000mm

1220mm*2440mm

clear
5
2-layer
1000
875
blue
6
2-layer
1150
1050
green
8
2-layer
1450
1400
opal
10
2-layer
1650
1750
bronze
12
3-layer
2000
2100
gray
14
3-layer
2300
2450
siliver
16
3-layer
2700
2800
glittering
Applications
Colors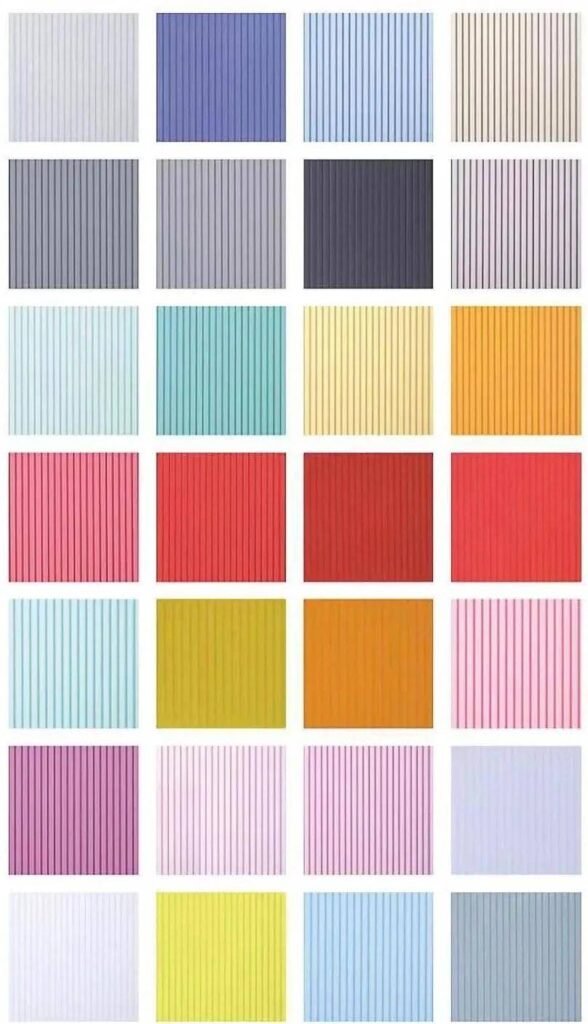 Data sheet

Characteristics
Unit
Data of PC Twin-wall Hollow Sheet
Light transmission
%
40  ~  82
Impact strength
J/m
2.1  ~  2.3
Coefficient of thermal expansion
mm/m .ºC
0.065
Heat conductivity
W/m2 .ºC
3.0 ~ 3.9
Service temperature
ºC
-40ºC~+120ºC
Tensile strength
n/mm2
≥60
Bending strength
n/mm2
100
Bending elastic modulus
mpa
2400
Tensile stress at break
mpa
≥65
Elongation at break
%
≥100
Sound insulation effect
db
20 decibel decrease for 10mm thick sheet
Product Advantage
*Lightweight
*High impact strength
*High light transmittance
*Good Ultraviolet resistance(Anti-UV)
*Good weather resistance
*Good thermal insulation
*Easy to install and process
 Application:
*Roofing light sheet and sunshade for office building, department store, hotel,stadium, school, amusement center, hospital, ect.
*Skylight, lighting for corridors, balcony, passages and subway entries, walkways.
* Do-It-Yourself (DIY), awning, canopy.
* Advertising lamp boxes, sign board.
* Anti-riot shield, bullet resistant material, Bank ATMs.
* Conservatories, agricultural greenhouses, zoos, botanical gardens.
* Industrial Roofing and Glazing
Delivery:
7-21 days after getting deposit.
Contact us:plastic@sdsaidali.com
            saidali.plastic@gmail.com
Whatsapp&wechat number:+86 13153168729
Contact us