Description
Products: PP Corrugated Sheet
| | |
| --- | --- |
| Material | PP |
| Item | Corrugated sheet, Corrugated board, Hollow sheet, hollow board |
| Thickness | 2mm, 3mm, 4mm, 5mm, 6mm,7mm,8mm |
| Basic Colors | white, blue, black, red, yellow, grey, etc. |
| Standard Colors | Natural & Gray |
| Premium Colors | Red, Orange, Sliver, Purple, Brown, Yellow, Green, etc. or Customized |
| Fitures | can be die-cut, scored, stapled, stitiched, and heat welded |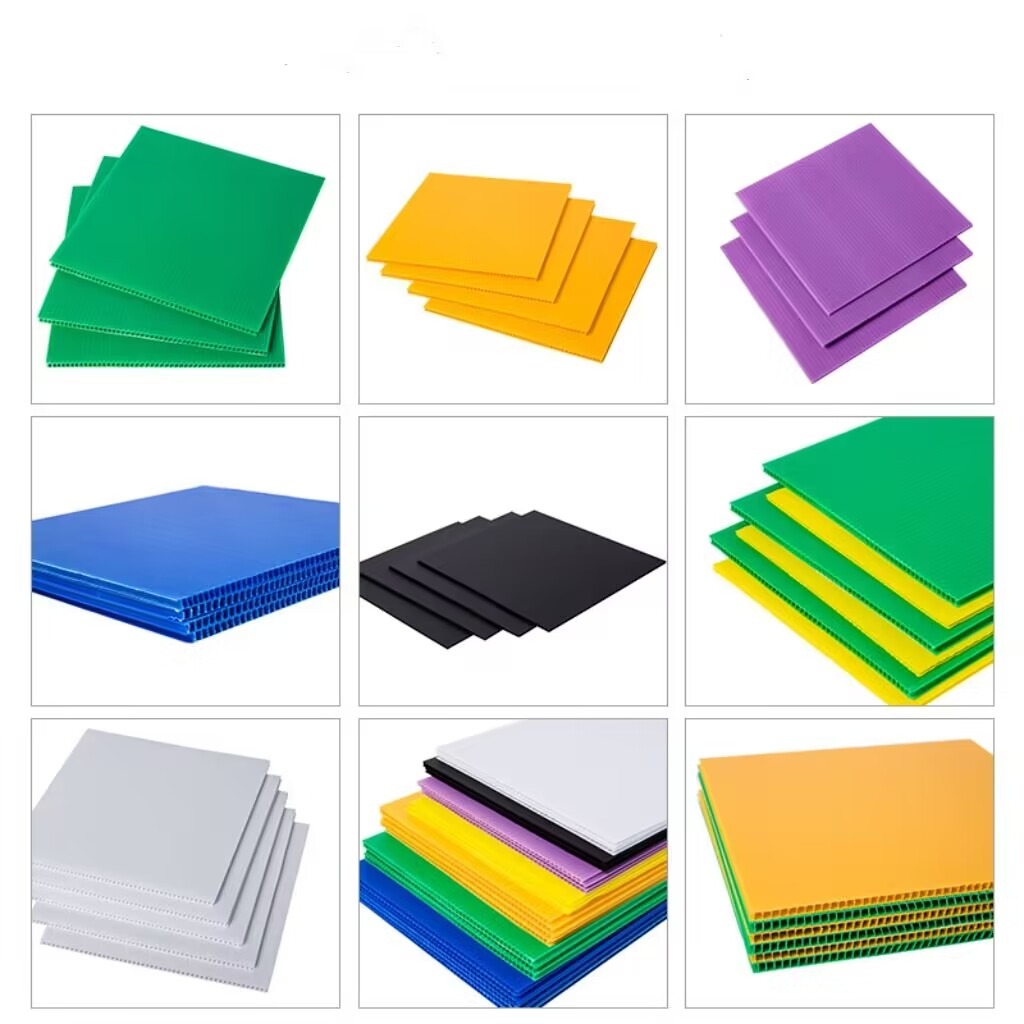 PP hollow sheet is  made of high density polypropylene, Which is non-toxic, odorless, anti-moisture and it has corrosion resistance, light weight, good appearance and color-rich etc. PP hollow sheet or Corrugated plastic or Corriboard – also known as Corrugated plastic, Corrugated PP, Corrugated plastic board, Corrugated Plastic sheet, Twin-wall plastic sheet, Hollow PP board, Hollow sheet, Coreflute, Corruplast, Polyflute, Coroplast, IntePro, Proplex, Correx, Corex, Danpla, Twinplast, Corriflute, Fluteboard, Impraboard or Corflute, Akylux – refers to a wide range of extruded twinwall plastic sheet products produced from high-impact polypropylene resin specifically for use in the screen printing, display and packaging markets.
Polypropylene (PP) Hollow corrugated plastic sheet is an extruded twin wall hollow fluted plastic sheets consisting of two flat walls connected by vertical ribs. It is mainly manufactured from a high impact co-polymer polypropylene which is recyclable, durable, washable and reusable. Polypropylene hollow fluted corrugated plastic sheet/boards was proved that it is suitable in the uses of packaging, advertising, construction, agriculture, industry and pharmaceutical etc.
Features
1.Unaffected by water.
2.Stronger and more durable than corrugated fiberboard.
3.Extremely lightweight.
4.Won't rust, rot, mildew or corrode like metal or wood.
5.Can be printed on easily and clearly.
6.Tear, puncture and impact-resistant.
7.Can be scored, creased, stapled, nailed, stitched, folded & drilled.
8.Can be made for die-cut.
9.Can be sonic or heat welded.
10.Resists a wide range of chemicals, grease and dirt.
11.Can be produced with a non-skid coating on one side.
Applications
Products Applications
1.Packaging material:Master cartons,packaging for fruit,vegetable,toy,fragile items,chinaware,gift box and so on
2.Turnover box:For preventing the damages from electronic products.What's more,it can be circle-used
3.Advertising board:It can be used as show board,signs,warning board,POP board,exhibition board
4.Industry use:Protecting board,padding board of wall,luggage carrier,separating board,baseboard
5.Construction board:Partition,protection board of wall,ceiling board
6.Others:Backboard of bassinet,wardrobe
Packing
Contact us